Howelsen Hill Ski Area is the town of Steamboat Springs' other snow sports center. (For those of you who are local or just enjoy being perfectly technical, I know it's officially the City of Steamboat Springs, but come on …) Howelsen is right behind downtown and it's small. And I'd venture a guess that very few visitors ever ride its exhilarating Schnackenberg Poma Lift (seriously, that's gotta be the steepest surface lift around) or make a single turn on its Upper Face, Town View, or Ridge Run trails.
Howelsen Hill, however, is very popular with folks who play in the snow for precious metals. The western front face is North America's largest natural ski jumping complex, a collection of ramps that have served as training facilities for some 79 Olympians, who have competed in more than 130 Winter Games.
We, of course, are not Olympians. Apparently, though, we are in gold medal contention for good karma.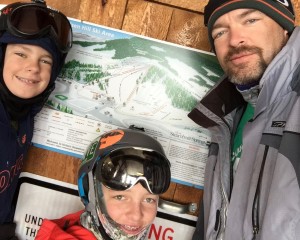 When we showed up Sunday, February 28, 2016, there was a sign that read "Ski Free Today!" Fantastic. And when we went in to get our complimentary tickets, the dude said, "The jumps are going to open about 11:00." Kick ass!
You see, the teaching ramps aren't always open to the public. I don't know the official schedule, but you can't just show up any old day and expect to launch yourself off the small, medium, and large trainers. The real-deal jumps — not sure how to categorize them: extra large, huge, and shit-your-pants-scary? — are always off limits. And trust me, you don't want anything to do with them anyway.
We messed around for a while — along Wren's Run and through Wither Chute — and then, as soon as they opened the ramps, headed for the Boardwalk Carpet Lift and the largest of the available jumps (I mean, if you're gonna do it).
There was a coach directing traffic from halfway or so down the slope. He'd give participants the green light, and, if necessary, a little constructive criticism. Dade went first. No problem. Roan, no problem. I eased out and waited for the go-ahead. When I stood up, I started moving pretty good. And as I'm gaining momentum I'm looking at the end of the ramp and I have no clue how far I'll fly or how quickly the bottom will drop from underneath me or any idea at all about what I'm doing in any capacity. So, in a moment of 41-year-old self-preservation, I pushed my skis out just a bit, into a slight snowplow before bringing them back to parallel.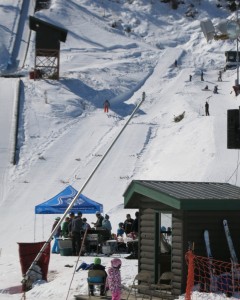 I got a little air and landed. No problem. Until I caught up with the boys, who were chuckling.
"The coach yelled at you, Dad," Roan said. "Did you hear him?"
I had heard something, but was ignoring it.
"Yeah," Dade continued, now impersonating the coach. "Don't check your speed. If you have to check your speed, go to the smaller jump!"
Fuck that. "Come on, we're going back up there," I said.
Needless to say, I redeemed myself. Perfectly parallel the entire ride. I even pushed off the edge of the ramp and leaned forward just a skosh. But, between you and me, I'm sure glad none of the other ramps were open.