I didn't think the last day of the Ski All Colorado adventure would go like this. My plan was to hit Arapahoe Basin late in the season — April 24, in fact, my birthday — and, being my birthday and late in the season and the final stop on the Ski All Colorado tour, I intended to spend more time partying than skiing. To that end, my ski wife (Heather) had reserved the best A-Basin "Beach" spot months ahead of time to accommodate our revelry. (Thank you very much, ski wife. That means more to me than you probably know.)
A few days earlier, I had said to my life wife (Michelle), "You know you're going to have to drive us home, right?"
"Of course."
"I'm skiing one run and then straight to the Jack and Coke."
"I wouldn't imagine this wrap party going any other way," she said.
But then we showed up to our reserved parking/tailgate/party spot and it was a white-out blizzard. Late in the season. On my birthday. And I thought, what the hell, let's do some skiing. The boys and I rode up the lift together, which was cool, and important to me. Five months before, the three of us started this journey on a chair at Keystone. Now, we were headed up the Black Mountain Express ready to finish it at A-Basin.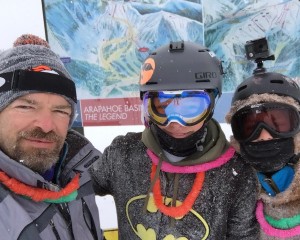 That first run was very low key. We simply took Ramrod right back down to the bottom. But when we got there, three wonderful things happened.
First: As Dade, Roan, and I were coasting to a stop, we looked at each other and smiled. Then we shared a group hug. We did it. For the rest of their lives, if someone is talking about skiing in Colorado and asks them, "Hey, have you skied at [fill in the blank]?" They can say, "Yes, I have. I've skied everywhere in Colorado." That makes me happy.
Second: Michelle had a Jack and Coke waiting for me upon arrival. That makes me happy. (You didn't think just because I was going to ski a bit more now that I was going to skip out on my beverages did you?)
Third: All my friends started showing up. And you guessed it: That makes me happy.
So we skied. For a good couple hours. And I was happy. It seemed like every time we returned to basecamp, somebody new had arrived, and they'd say, "I want to do a run with you guys," so we'd go back up. We did the Land of the Giants and Powder Keg and the Pallavicini territory.
About noon, the snow stopped and the sun poked through the clouds. Seemed like a sign to me, so I decided it was time to give my full attention to the party … after one final all-inclusive gang ski with everyone who was willing.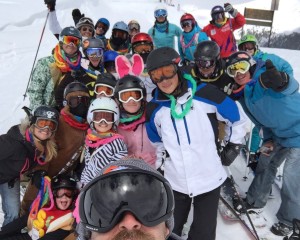 I'm not going to try to name everybody who was in attendance because I'm terrified I'd screw up and leave out a name or two. If you were there — whether you made those last turns with us or not — you know it, and please know that I really appreciate the support.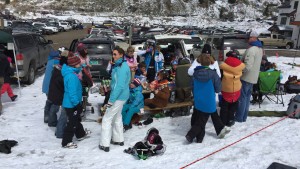 And I guess that's it. What a fuckin' great season. I thought the end would provide a tangible sense of relief, that I'd get in the car and be thankful it was finished. The opposite was true. As Michelle pulled out of the parking lot and we started driving up Loveland Pass, I couldn't stop looking back at the mountain. In those first few moments, as proud and happy as I was with our accomplishment, I didn't want it to end.
Some time has passed since that day, and we're about to start a new season. We won't be skiing all of Colorado this year, but we'll be out on the hill plenty … getting stuck on cliffs, riding the jiggy juggs, nailing 360s in the woods, enjoying après Jack and Cokes in various hot tubs, asking "what could go wrong?" before navigating a narrow chute, hoping for powder days, popping a beer on the lift, re-enacting Hot Dog, taking it to the road, getting lost (in spirit at least) in an aspen glade, skiing in shorts, and generally finding peace on the snow. So, you know, if you're looking for a good time, give us a call.