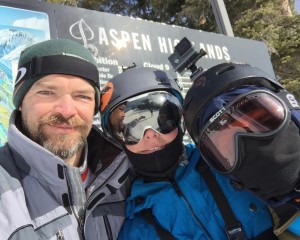 It's funny how sometimes you don't recognize a near-perfect day until you're telling the story later, and while recounting in glorious detail all the satisfying triumphs and humorous exploits, you suddenly have to stop mid sentence because you realize, "Goddman, that was a great fuckin' day."
1. Good Skiing
Aspen Highlands' raison d'être is its namesake bowl, a collection of 23 or so runs known for their precipitous topography. The terrain up there is so iconic in fact, that the trail map doesn't merely list route names, but also includes summit elevation, average and steepest pitch, and directional aspect. The point of all this information, of course, is to make establishing bragging rights easier.
"We bombed Ozone this morning, Brocephus — that's a max 40-degree pitch from 12,392 feet high!"
"Oh yeah? I got wicked on Ballroom after lunch. Check the stats my man! 43 degrees. I was defying gravity like Elphaba!"
Highland Bowl's other fun feature is that it's hike-to territory. (Fine, technically, there is snowcat delivery service, but come on.) So after rides on Exhibition and Loge Peak lifts, the boys and I, along with Dade's buddy Tyler, started walking uphill.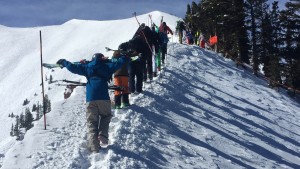 We decided to break off from the hiking crowd at Grahamster's. At the time, it was only because the snow looked relatively fresh and the other folks were continuing on, which meant we'd have this part of the mountain to ourselves. Later, when I checked the map, I happily discovered our route's funnest/nastiest section slopes at 44 degrees, the third steepest in the bowl.
I also discovered later that Tyler hadn't ever tackled that type of terrain.
It was a fun descent. Wide open, steep skiing punctuated by jump turns and moments of feeling the need for speed. There were no disasters or even mild catastrophes, perhaps a couple tumbles, but mostly just the pure bliss of skiing with my boys and not having another care in the world.
And then we went in to the Merry-Go-Round lodge for lunch. Dade was verbally reliving what we had all just done together, Roan was deconstructing his turkey sandwich, and Tyler was sort of staring into the distance, absently crunching a Dorito.
"Tyler, you good?" I asked.
"Yeah," he said.
"Have you ever skied anything like that?"
I so wish I had a mental Terminator mode so I could download the image I have in my head of his response. His eyes got big and he shook his head fast — like horror-movie-possessed-by-the-devil fast — and abruptly said, "no."
I smiled. "Well, you have now, bud." Up on the hill, I had sensed he was a little anxious, but I knew he'd be okay. The cool part was that now he did, too. He smiled back at me, his shoulders relaxed, and he confidently nodded, "Yeah, I have," — and then dug into a $24 cheeseburger.
2. Good Booze And Good-Looking Ladies (Not Necessarily In That Order)
After lunch, the boys went off to be jackasses (as boys are wont to do). Michelle and I skied a few runs on Gunbarrel and Jug's Hill (obviously). Michelle even did a little work on her mogul technique. She didn't build quite as much confidence as Tyler, but I always enjoy when she pushes herself a little on the mountain.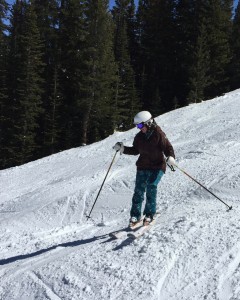 An exciting morning with my boys. Watching a good kid conquer a new challenge. And a few fun runs with Michelle. (Oh, and it was March Madness time and the Hurricanes won their early-round game during our lunch break.) How could the day get any better?
How 'bout some free whiskey served by sexy ladies?
Michelle might not be an expert downhill skier, but she's almost definitely a better après skier than you. Her specialty being securing the best table in the house. Don't tell her, but one of the reasons I almost always do "just one more run" before I meet her at the bar is so she has time to obtain prime cocktail real estate. She rarely disappoints. And down at Highlands Village, she exceeded even my expectations.
"I already ordered you a Jack and Coke," she said, and then gestured over my shoulder. "But these girls are bringing you a free sample of their whiskey, too."
I turned just in time for them to ask Michelle, "Do you mind if we take a picture with your husband?"
"I'd be disappointed if you didn't," she said.
Which put a nice cherry on top of all the reasons why, like Ice Cube, I gotta say it was a good day …