I fancy myself a bit of an amateur photographer, and I've always been a big fan of the medium. I'm a professional writer, though, so I take some degree of exception to the phrase "a picture is worth 1,000 words." Give me those thousand words and I believe sometimes I can paint the picture better.
This is not one of those times.
Our day at Buttermilk, on March 13, 2016, can best be described with this shot: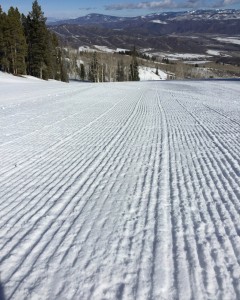 Notice the perfect grooming. The perfect weather. And the perfect solitude. All of that (along with a bunch of laps in the excellent Ski & Snowboard Schools terrain park) pretty much sums it up.