Heather had been waiting all season for the Ski All Colorado crew's Snowmass excursion, and after the Sunlight snafu, the only option was to plan it to fit her schedule. So Saturday, March 12, 2016, it was. (And I'm pretty sure she still dumped a bunch of paperwork on her assistants, or maybe just ignored it all until Sunday afternoon.)
You may recall Heather grew up around these parts. Even more pertinent to our day at Snowmass was that she spent a couple seasons working here — which, admittedly, is a point of envy in our relationship. I can probably count my life's true regrets on one hand, but near the top of the list is the fact that I didn't head to the hills to be a ski bum after school. Heather did, and on this particular day, I was looking forward to vicariously reliving some of those glory days.
Except … shit changes in 20 years!
I had no idea Heather hadn't skied her beloved Snowmass since 1995 — but during our first ride on the Village Express lift, it became clear something was a tad off. I felt like I was sitting next to somebody who'd just escaped from The Twilight Zone.
"Wait!" she began. "Where'd that building come from? What is it? Wait! There was never a lift up there! What's it called. We had to hike! Wait! What lift are we on? Where are we even going? Wait! I swear there used to be a warming hut right here! Wait! Is that an intergalactic-radioactive-abominable snowman running into the trees?"
Where is Rod Serling when you need him.
I must have given her a look because her next words were, "What? I haven't been here in 20 years!"
"What?"
"Nope," she said. "Not sure why, but I've never made it back." Then she looked around and waved her arms as if no part of that conversation phased her in any way, and said, "But isn't this great!"
It is. Snowmass is gorgeous, and, true to its name, massive. More than 3,000 acres, and it's safe to say we skied a big chunk of them by early afternoon. We started on the Cirque Headwall and migrated over to Hanging Valley, where Roan displayed his comedic powers of observation by pointing out that the only Hanging Valley run that was impossible was, indeed, Possible. Good one, Roan.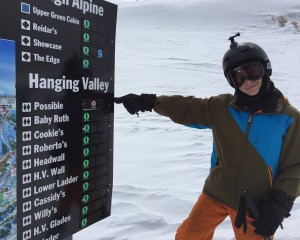 We went Baby Ruth and Cookie's instead, and then crosscut a section of trees to get on Naked Lady (yeah, it's a blue, but if you think I won't take a detour to see a Naked Lady, you don't know me very well) before making our way over to Elk Camp for lunch.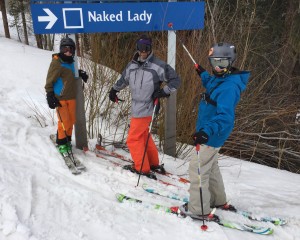 The More They Stay The Same
"We have to ski Powerline," Heather said over a PB & J and Coors Light. "It's a long mogul run and we always tried to go top to bottom without stopping. We gotta do it!"
Heather's enthusiasm is contagious. And I, of course, am typically down for whatever. But in the back of my mind, based on our earlier conversation, I was secretly thinking I bet that run doesn't even fucking exist anymore. I glanced at Dade, who was speaking to me telepathically (it was a Twilight Zone sort of day), and guess what he was saying … without saying anything: Dad, I bet that run doesn't even fucking exist anymore.
We got the map out and found an area called Powerline Glades. Promising, but not terribly specific. "It's over there somewhere," Heather said. "I'll find it." And then, "What could go wrong?"
Nothing, actually. When we arrived, I discovered that Powerline isn't an official run; it's a strip of snow lined with moguls that runs beneath … you got it … an actual power line. Back in the mid '90s, Heather and her cronies would mark the end of their day by blazing the entire stretch with no rest (unless they went full mountain stowaway in order to catch the next morning's fresh tracks, but that's a different story).
Heather led us off, followed by Dade, Roan, Sasha, and me sweeping the end. It's not steep, but once the bumps begin, it didn't take long for my quads to start burning. Up ahead, Heather was hollering — alternating between simple hoots of joy and shouts of encouragement. All the kids are more than capable riders, but it's a long trail, and I'm sure it was her aforementioned enthusiasm that got them through it mentally.
As for me, I was happy and laughing because I finally got the glimpse of my friend's Snowmass glory days I wanted. She was ecstatic. And if there was ever a Twilight Zone episode in which the lead character transferred euphoric energy to the people around her, we certainly were in it for the duration of that run.
Plus, I had a pre-mixed shot of Jack and Coke in my chest pocket and once I saw Heather hockey stop at the imaginary finish line, I decided the post-Powerline adult chair seemed like the perfect occasion for a toast. To the things that change, and those that don't. Cheers.