I got a text from my good friend, Mike, a couple weeks ago. He was on one of his crazy bike-ride adventure races (you'll get to know him better in a few posts). He'd probably been up for 72 hours straight and had pedaled uphill both ways from Tijuana with a donkey riding shotgun or something like that. I don't know. Anyway, he was on his bike and he was down around Durango. I can't remember the message exchange verbatim, of course, but I think it went something like this:
Mike: Hey, did you ski Hesperus?
Me: Yes, we did.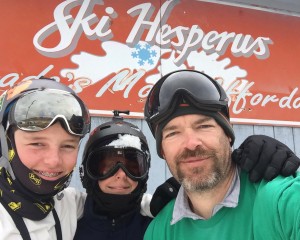 Mike: Phew! I just saw it while riding my bike and got worried. I'm headed back from Tijuana with a fucking donkey.
Me: I got it covered. How was the bike ride?
Mike: Fun. Good miles. Pretty country. I got to race a bunch of strangers, which is fun. But I haven't slept for 72 hours.
Me: Hesperus was fun, too. Talk soon.
As Mike discovered that day, Hesperus is just a bit west of Durango, right off Highway 160. It has one lift and a rope tow, and based on my research it's perpetually for sale. We skied it on March 5, 2016 (after spending the bulk of our Saturday at Purgatory), which was lucky because Mike's concern would have materialized had we shown up just 18 hours later. We caught it on the last day it was officially open.
But we made it, and we did have a good time. Obviously it's a small mountain, but by this time in the season, the boys had truly embraced the idea of simply enjoying where we were. No super chair? No problem. No tight chutes or steep glades? Whatever. We're outside and clicked in to our skis — and for me, Michelle's sitting at the base with a Jack and Coke in my Yeti Rambler that I can sip from en route to the lift at the end of every run. Pretty easy to keep a smile on my face with all that.
We explored Slingshot and Gun Sight skier's left of the chair. Dade did a couple 360s next to an old VW Bug half-buried in the snow (Mad Max meets terrain park). Then we went the opposite direction and discovered Quick Draw and Alligator Alley.
And then … the Jack and Cokes started tasting even better and it was almost closing time. We did one more run before bidding adieu to Hesperus, and as we pulled out of the parking lot, the boys both said, "This was a fun little spot, Dad."
"It's for sale. Get a job and you can buy your own ski resort."
"Really? We're gonna do it!" they replied.
They're not going to do that. (It's sorta fun to think about, though. And their genuine enthusiasm at the prospect means our ski season was a success.)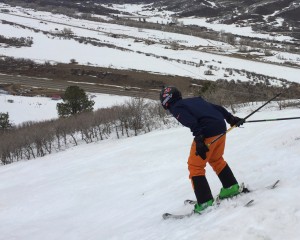 Roan on Alligator Alley.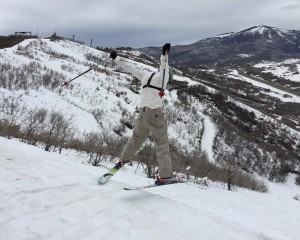 Dade making the most of the drop on Quick Draw.