After a three-week interlude to accommodate teenage social calendars, a Broncos' Super Bowl victory, and a Texas hog hunt, our handwritten schedule indicated it was time for "Aspen Weekend #1." With four gonzo mountains up around Hunter's old neck of the woods, we were going to need two weekends, and February 20 to 21 was going to be the first.
Right up until it wasn't.
Around 9:00 p.m., Monday, February 15, there was a rockslide in Glenwood Canyon, which is really the only reasonable way to get to Aspen from Denver during the winter months when Independence Pass is closed (just ask Rob and Stacey). And when I say "rockslide," what I really mean is that a gargantuan Chevy Tahoe-sized boulder absolutely wiped out the interstate through the canyon. Honestly, it was a pretty awesome display of what we have to look forward to once Mother Nature finally decides she's had enough of us.
Anyway, CDOT planned to re-open the road on Thursday, but the weather and the fact that they were dealing with a Chevy Tahoe-sized piece of fucking granite complicated things.
We postponed Aspen, and took an easy day-trip to Loveland on February 20 instead.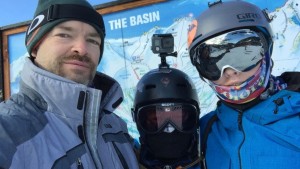 Both boys spent their very first hours on skis over at the Valley, so Loveland has some sentimental value in our house. Still, we passed on the opportunity to make any nostalgic runs on All Smiles or Take Off, and headed to lift 9 to meet up with Heather, Peter, and Sasha.
Chair 9 goes to 12,700 feet above sea level, to the crest of the Continental Divide. At one point in its history, it was the highest chairlift in North America, if not the world. When you arrive, you're well above treeline, the wind is blowing like hell, and, generally speaking, it looks and feels like there's no good reason at all to be there. Except, you know, to bomb the steeps in Primer Bowl and Castle Rock.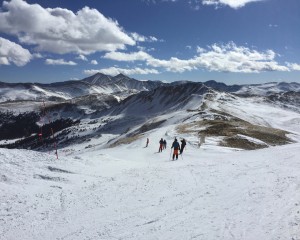 As much as I enjoy descending from America's spine, my favorite terrain at Loveland is actually beneath chair 1. North-facing runs Over the Rainbow, Avalanche Bowl, and Tiger's Tail are full of surprises: a powder pocket here, a rock face there, and some tree patches in between.
I suppose the people who regularly ride Loveland have this quadrant all mapped out, but I always feel like I find something new here. Tiger's Tail led to some fun jumps that the kids enjoyed. On our second run, Heather and I discovered a good mogul field against the trees on Avalanche Bowl (I think), while the younger generation plotted a course back to their favorite aerial launchpads. We did a few more laps like this, not really paying much attention to where we were on the mountain, but instead focused on where we were in the moment.
Maybe that sounds a little New Age-y, but that's what skiing does for me. It provides the chance — better yet, the freedom — to focus my mind on where I was, what I was doing … (for you, Heather), as opposed to thinking about all the other things that could use my attention. And those moments are hard to come by, which is why it's so important to not let a Chevy Tahoe-sized slab of granite, or any of life's other rockslides, get in the way of seizing them.