They say there are no friends on a powder day. But when Beaver Creek reported 13 inches of fresh snow on January 31st, the boys and I had a lot of them. Shawn and Spencer, Chance, and Ben; Dave and Jen with Connor and Boden; and lone-ranger Tyler all met us on the mountain. Which is cool, because I'd always rather ski with friends than alone (unless you're keeping me from cashing in on all that powder).
The challenge with that many people, of course, is that on the hill, like in life, there's no damn way everybody wants to do the same thing. An exception to this basic rule of humanity is if somebody in the group is in the middle of a quest to ski every Colorado resort during a single season. If you run into that group with that guy, he's automatically the default guide and everybody will ski wherever he damn well pleases. Mainly because it's his party, and he'll ski where we wants to.
Beaver Creek is well known for a variety of solid attributes. The two that top my list are the free cookies at the end of each day and the Birds of Prey collective (the person handing out Kleenex when I walk into the lodge is right up there, too). Set mostly on Golden Eagle, the Birds of Prey course is where alpine skiers such as Hermann Maier and Ted Ligety go all Fast & Furious during World Cup competitions. It's a long run with no real obstacles and plenty of space to make as wide of arching turns as you want, yet, thanks to the grade, it's a double-black diamond.
Naturally, that's where we started our day.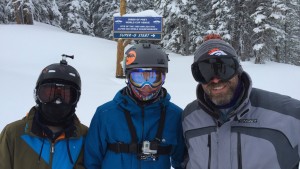 I gave my boys a quick history lesson and heard some background chatter along the lines of "just make nice, easy turns," and then one by one we all pushed off as if we were in our own super-G time trial. Jen, a former ski instructor, was one of the first out of the "gates." She carved a smooth, continuous S down Golden Eagle's steep face, making quick work of the upper section and then snaking around a stand of pine trees without sacrificing any momentum.
With most of our group already making those nice, easy turns somewhere between Jen and me, still standing at the top, I leaned forward and let my skis run …
At that moment, on that trail, like Maverick and Goose, I felt the need, the need for speed. I have no idea how fast I was actually going, and I'm sure I didn't even sniff the Herminator's warm-up velocity, but it's fair to say I was fuckin' moving. Kids blurred through my peripheral vision, their distorted words — whatever they were saying, whoever they were saying it to — sounded like a warped LP playing at 78 RPMs.
Maybe 200 yards after my quads had made it clear that they'd had enough, I dug into a hockey stop and looked back uphill. Jen was just a bit above me and to my left. Dade came screeching to a stop on my right. As the rest of the group arrived, we marveled at the fact that we hadn't even crossed the actual finish line yet — those World Cup folks cover a lot of ground in 90 seconds or so. Needless to say, we didn't set any world records that day.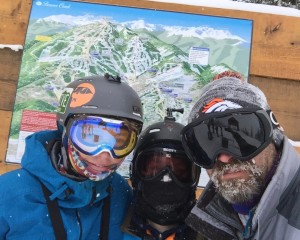 Chutes And Grins
After Birds of Prey — and before both the cookies and Kleenex — we went to check out the Upper Stone Creek Chutes. This is actually my favorite spot at Beaver Creek, but most people barely know it exists, and even fewer bother to take the slow-go Drink of Water Lift to reach the gate-access-only top section. So: 13 inches of new big-flake snow, plus three or four steep chutes situated amid craggy cliffs and dense pines, and maybe 10 people on the mountain know where the entrance is. You do the math.
Round one, the grown-ups peeled off at #2, while Dade led a kid squad down #2 1/2. That's really what they're called. Seriously, nobody's paying much attention back here; there isn't even an inset for them on the map.
I'll spare you all the soft, deep snow adjectives I could use to describe the conditions. Suffice to say, it's was real good. As Shawn said when we got to the bottom, "That's some fun shit." Shawn's a damn good skier, grew up racing, but I don't think — and he can correct me if I'm wrong — he voluntarily seeks out this type of terrain unless he's with me. When we're together, though, he's always down for whatever, and over the years, I've heard him say "that's some fun shit" quite a few times.
We did one more group tour through Stone Creek, everybody pushing knee-deep powder and dodging Mother Nature's finest obstacles. It's funny, and this isn't first time I've mentioned it, back where if you make a mistake it could turn into a big mistake must be the most peaceful place on the entire mountain.
Michelle said it best when I text her to let her know Jen and I were going back for another helping. "One more in Stone Creek," I typed. "Standing at the top now." She replied: "You're in heaven."
Yep. And I still had those free cookies to look forward to.