There's a scene in every Warren Miller movie (every Warren Miller movie I've watched at least) when the cameras capture rookie snow-sporters struggling a bit with their gear and the conditions. It's mom and dad trying to carry an entire family's worth of boots, skis, and poles up to the ticket counter while little Jimmy and Janey wander aimlessly in their overstuffed winter attire. Or Aunt Shirley trying to negotiate an icy walkway in boots while cradling skis and poles in the crooks of her elbows. Or Cousin Frank fully clicked in to his bindings 10 yards too early and slipping helplessly backward from the lift.
Needless to say, disaster ensues. As does laughter.
We arrived at Ski Granby Ranch on January 30, 2016, a full hour before the lifts cranked up. And when we did, we entered that scene in every Warren Miller movie. We watched at least four separate people take a tumble; saw one dad trying to lead his, shall we say, unhappy, young daughter toward ski school; and a set of uninterested brothers engage in a full-blown snowball fight while their mom barely managed to get their gear to the lodge.
Needless to say, laughter ensued.
"Boys," I said. "No doubt this is pretty hilarious. But remember that we all had to learn at some point. It doesn't seem like this is going to be a very challenging day. So enjoy it for what it is. And keep in mind, skiing is a hell of a lot better than working — no matter what kind of skiing we're doing."
With that, we geared up, put our skis over a shoulder, and walked to the Quick Draw Express quad chair. (For those of you hoping one of us fell on the way to the lift, to get a taste of our own medicine or whatever, that's not how this story goes.)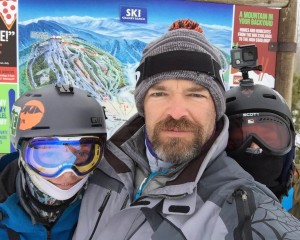 We cruised down Summit Glade and High Roller, and found some entertaining little detours through the trees off Gettles Glade, and the boys practiced some of their aerial maneuvers on the jumps in the Rough Stock terrain park. We were skiing, and we all had smiles.
About 10:30 a.m., the Conquest lift to the top of West Mountain opened. On the way up, we spotted some fun looking terrain through black diamond-rated Dean's Glade. It didn't look terribly steep, but the trees seemed to be spaced well and the snow looked virtually untouched.
We went skier's right and dropped in where I thought we'd catch the steepest section of Dean's. Our route involved cutting through a dense clump of trees and when we exited, the snow was shin-deep … but the mountain had suddenly gone flat. We were all stuck; Roan, the lightest of the group, had it the worst because the powder stopped him literally in my tracks.
As we were scooting our way to freedom, a patroller appeared above us, on a part of the run that obviously had a more favorable pitch. "You guys okay?" he called.
I was worried we had somehow entered a closed run. "Yeah, fine," I replied. "We were trying to get to Dean's Glade."
"You're one past it, on Skydiver." And then he was gone over a little roll in the hill, probably thinking to himself something along the lines of what a bunch of jackasses.
Which is cool, because most Warren Miller movies have a scene that features the men and women who are otherwise skiing the most gnarly terrain doing something halfway stupid where you'd expect it least. Call it just deserts if you want. We were still skiing, and that's a hell of a lot better than working.