Before I get started, I'd like to make note of something: Peter and Sasha, and Heather, joined us for our January 23, 2016, expedition to Winter Park. If you're wondering what the big deal is, you haven't been following along, and need to go back to the Hungry for the Wolf and Elephant Balls installments. The short version, though, is that I led the kids to a 15-foot-high cliff at Wolf Creek and snubbed their mom en route to Sunlight. And yet, here they are! Because, hey, we're skiing, so we're all good! And Heather and I even had our own missing-gear adventure (I'm equal opportunity).
We started on the Panoramic Express lift to the top of Parsenn Bowl, elevation 12,060 feet. The highlight was having Michelle roll with us. There are a lot of ski mountains where she avoids going to the top because there aren't many suitable-to-her ways down. Parsenn is different; most of the runs from the summit are blues. The kids took off, looking for fringe jumps and zigzags in and out of the trees, so Michelle and I enjoyed the scenery and had a mellow date run along Parry's Peek and Forever Eva.
"I don't usually get to come up to these spots," she said. "It's cool to get up so high above treeline." (Just wait until Telluride, my love …)
From there, we all zipped up and down the Mary Jane territory for a while. Thanks to its reputation for de Milo-sculpted, Volkswagen-sized moguls, Heather is a Mary Jane devotee. She loves to ski the bumps. And, with her skinny K2's and blond ponytail, she looks good doing it, as if she bounced right out of a scene from Hot Dog.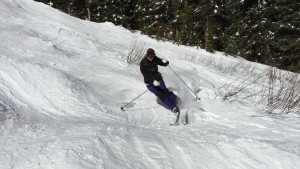 We did our best Banana Pants and Harkin Banks down Outhouse before working skier's right to the chutes. (We didn't have time for Drunken Frenchman, but that's okay. I'm a good enough drunken American to make up for it.)
Karma's A … Nice Lady
While Mary Jane is known for its moguls, Hole-In-The-Wall, Baldy's Chute, and the other vertical ribbons of snow bound by craggy rock faces and old-growth pine trees below the Challenger lift are a pretty damn good time — if you're in to that sort of thing.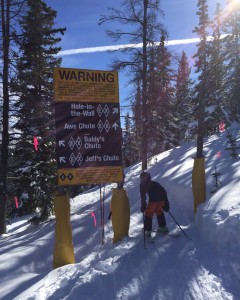 One of Peter's friends, Stuart, had been skiing with us all day and was now perched on top of a rather precarious outcropping in Baldy. Heather, stopped above him, said, "I'm not sure that's a good spot." She took another look. "Yeah, I don't think you should go that way."
Stuart replied, "I think it'll be okay," and dropped out of sight into a narrow, wintry escarpment for a second or two before reemerging unscathed into the larger, open bowl. I chuckled — I think it'll be okay. What a great attitude.
Heather was up next. She took an even more aggressive line and when she reemerged it was in somersault form with no skis or poles. Or, she soon discovered, iPhone.
"I didn't zip my pocket and the earphones must of yanked it out when I fell," she said.
I skied as close as possible to the point of impact, but was still at least 10 feet below ground zero, and didn't see the bright pink case. What I did see was that there was no chance I could make my way back up to where the phone might have ejected. It was too steep and I'd simply sink waist-deep into the snow. And then a ski patroller appeared.
"Everything okay," he asked.
"We're fine. She lost her phone." By now, Heather was climbing toward us.
"She's not going to make it up here, you know," he said.
"Nope."
"Ma'am," he called, "once you get about to him, you're going to be stuck. It's too steep. I'd recommend just stopping there." Then, quietly, and just to me, "She's pretty hardcore."
"Yep."
Heather kept coming, and our friendly safety officer realized a mere recommendation to stop wasn't going to get the job done. "We're sweeping this run now. It's closed, but how 'bout this," he said, "I'll send my two junior patrollers with you to come back to look for it."
Heather agreed and got clicked into her skis. I started down, too, but three quick turns into my descent had to hit the brakes because she made an abrupt, and seemingly inexplicable, stop in front of me. She reached down and guess what …
"My phone!"
I turned back to the patroller. "That's good karma."
"You're not kidding," he said. "Unbelievable. You all have a good day."
Well, we're skiing, good sir, how could we not?