When this ski odyssey comes up in polite conversation, my elevator speech always starts with "The boys and I …", which inevitably prompts the same initial follow-up questions: Doesn't Michelle like to ski? Is she as good as the boys? Yes, she does. No, she's not. (Still, she's better than she admits, and better than she often attempts.)
Her carving abilities, though, have no bearing on how much each of us like to have her around on the hill — even after she's done her three or four Bissell School of Leisure Skiing runs and has retired to an 11:00 a.m. après spot in the lodge tavern. Or, maybe it's because of that. We always know where to find her, and we always know we'll have a seat. Either way, Dade, Roan, and I were very excited when Michelle announced she would make her first ski-all-Colorado appearance on our December 30, 2015, visit to Eldora.
And Dade, our resident teenage boy, was particularly excited to announce to everyone within earshot which run he wanted to check out. "We gotta ski this one," he said when we pulled into the parking lot. "Jiggy Juggs! Ha! That's awesome!"
Roan looked over his shoulder. "Dade, it's Jolly Jug."
"Yeah, but Jiggy Juggs is funnier. And better!"
Roan, deadpan, giving it some genuine thought (like he might have actually tapped an index finger to his chin): "That is true."
"Mom, you ready to ski on some Jiggy Juggs? Ha!"
Michelle and I were laughing too hard to answer, but I think it's quite fitting that our first full-family run of the season was the intermediate level Jiggy Juggs (come on, Dade's spot on about this — Jiggy Juggs is way better than Jolly Jug … way better). To our delight, we also discovered Jolly Jug Glades, a more challenging offshoot of the main run.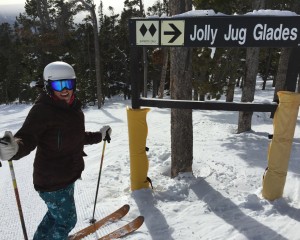 After the obligatory picture (you didn't think I wouldn't take it, did you?), we moved on with our day, and migrated toward Corona Bowl, where Michelle got her Julia Mancuso on (wouldn't that be a good time?) bombing Muleshoe, a groomed black diamond that had us all feeling a bit like downhill hopefuls.
"I love that it's steep, and I can get some speed, but I don't have to worry about hitting a mogul patch," Michelle said.
While she kept working super-G turns, the boys and I went a little farther skier's left to check out Salto Glades, some decidedly un-groomed terrain.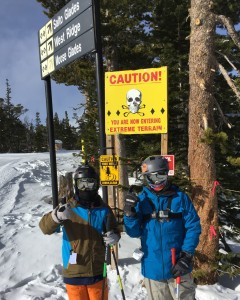 Our first descent went as expected. We found some good snow stashes tucked between the trees before popping out onto West Ridge and continuing down to the Corona lift. "Should we get another one in there?" I asked.
"Yeah, and if we stay right, I think there's some more good snow," Dade said. "I went that way a little bit last time and it was pretty deep."
Pretty deep is right. Pretty deep in the trees. We made a few solid turns and then suddenly we were picking our way through some dense pinery on a single-track trail, snowplowing little zigzags to daylight. "Well, it's supposed to be an adventure, right Dad?" Roan said.
Yes, it is. And so far it has been. And, seriously, a good adventure has got to have some good Jiggy Juggs.