"What's the lunch situation?" I asked the night before we arrived at Powderhorn. We pack a mobile refrigerator (aka our Yeti) for every trip, and can lay out a pretty tasty breakfast and lunch spread — and host a solid après affair — from the back of our rig, but I wasn't sure if we should pre-make sandwiches or plan for a high-noon tailgate on January 9, 2016.
"We bring our lunch and just leave it in the lodge," Drew said. "No locker needed."
And that pretty much sums up the vibe at Powderhorn. It's a friendly mountain where everybody knows your name … and nobody will steal your PB&J.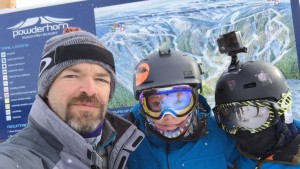 I suppose that makes this as good a time as any to provide a quick admission: I grew up skiing Breckenridge. Spent my college years and early 20s at Copper Mountain. Did my young professional/pre-kids time at Vail. And then returned to Copper when we had to start buying lift tickets for the boys. Combined, those three resorts offer more than 10,600 skiable acres. In other words, they're big. And — here you go — I've had a big-mountain bias my whole life. It's not like I boycotted the smaller spots. I just always figured, why go there when another area is much more sizable?
So my first reaction to the whole lunch thing was, How small is this place? I mean, can you imagine if you left a pastrami on rye and some cheddar and sour cream Ruffles sitting in the corner at Two Elk Lodge? Drew, an old friend from college, must have sensed my contemplation. "This is small-town skiing, man," he said. Not apologetically, just matter of fact — and, I think, with a bit of I-know-something-you-don't-know inflection.
And here's the point in this odyssey when I do learn from my kids, because they don't give a shit about acreage or if we do or don't need a lunch locker. They just want to ski, and they certainly aren't as susceptible to not seeing the forest for the trees. Literally.
"Dad, this aspen forest is awesome!" Dade said first thing on our first chair. "It's real different from where we usually ski that has mainly pine trees. So cool."
"And the mesa is cool, too," Roan added. "Usually there's a peak above us, but this is all flat at the top, like once we're up there we could walk forever. I like that it's different. This place is cool."
I Feel You, Dog
Okay, enough philosophy. Let's ski (I'm a quick learner). From the top of Take Four, we worked our way skier's left to the West End lift (humming the appropriate Pet Shop Boys' tune en route — obviously). In an earlier post, I noted my penchant for glade skiing, and if glades are happy hour, aspen glades are top shelf (why do you think Dade was so excited?). For my money, there isn't a more iconic winter scene than an aspen grove blanketed in snow. Make that a couple feet of powder and it's like the boys and I are carving lines inside a snow globe.
And that's what we did for run after run in Mad Dog and Thunder Mountain glades, shielded from the world by sentinel aspen trees that would occasionally squeeze us into narrow passages before opening up into another mid-forest pocket where we could turn our skis loose. We never took the same route twice, and never encountered another soul inhabiting our wintry panorama.
In fact, 48 hours before we arrived, Powderhorn reported seven inches of new snow. On one run, though, I cut to my left over a boulder and then went right around an old aspen. Who knows what the topography looks like beneath the snow, but at the bottom of my turn, I slipped thigh-deep in white stuff before popping back up for my next pole plant. Which makes that the best two-day-old seven inches of fresh I've ever seen.
And makes the moral of the story this: Not getting your lunch stolen or thrown away is a convenience, but the true blessing of small-town skiing is that the snow sticks around because there aren't thousands of people looking for the same powder stashes everyday. Well played, Drew.